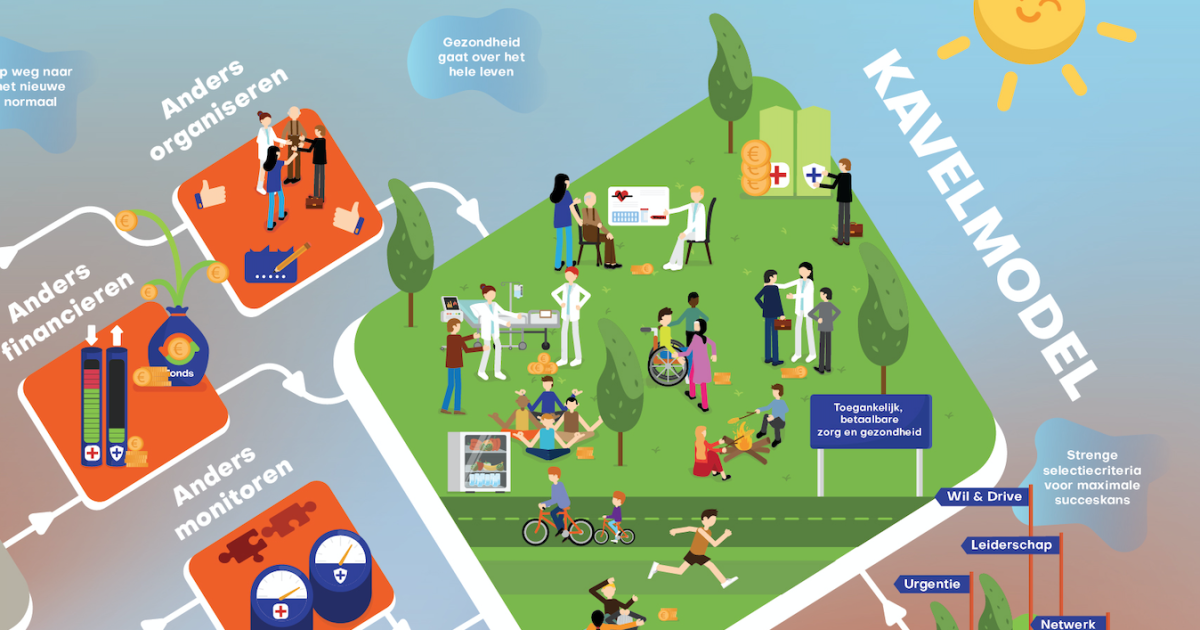 Stichting HealthKIC [HealthKIC Foundation] is a growing network of organizations involved in activities initiated, and facilitated by, the Noaber Foundation, Menzis, PGGM, Alles Is Gezondheid [Everything is Health] and the Ministry of Health, Welfare and Sport. In 2020, the Bernard van Leer Foundation was admitted as a partner. HealthKIC has assisted in the development of the Kavelmodel.
This makes it possible to organize, finance, and monitor a certain area of the model (the Kavel (plot)), using a different approach. The pillars for success are: a temporary team of experts that supports residents, professionals and administrators with extra knowledge, skills and organizational strength, an investment fund that can attract external capital to finance start-up costs, set-up and interventions and a different way of measuring and monitoring to gain insight into health and not just the absence of disease.
Achterhoek is the first region in which the Kavelmodel is being developed further. The Theme "Achterhoek, the Healthiest Region" will promote this development. This partnership between care organizations, health insurers, governments and business owners are committed to guaranteeing the accessibility, affordability and quality of our healthcare.
The acceleration phase for the Kavelmodel in the Achterhoek is widely supported by the region. In a digital information session at the end of October, more than 50 organizations were introduced to the Kavelmodel, with a great show of positive energy and enthusiasm.
HealthKIC and the Kavelmodel are part of our population health program.